Investor and Board Member since 2011
Community Energy has developed hundreds of MW of utility-scale solar across the country including two of the largest projects nation-wide in Georgia and Colorado. Community Energy also develops customer-sited and community-scale solar projects for businesses, universities, and residential customers.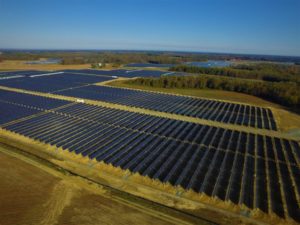 Amazon Solar Farm Virginia–Southampton is a 100 MW solar project in Southampton County, Virginia that will supply Amazon Web Services data centers in Virginia under a long-term Power Purchase Agreement. The solar project will avoid the release of 134,377 tons of carbon dioxide, 631 tons of sulfur dioxide, 315 tons of nitrogen oxides, and 12 tons of particulate matter annually. The project utilizes single-axis tracker technology, which follows the sun's path providing high peak production. Amazon Solar Farm Virginia – Southampton achieved commercial operation in 2017.